UGPSC News
The latest news from the Ulster Grand Prix Supporters Club
Bike Week 2018
Bike Week 2018 gets underway next Sunday, so make sure you check out the packed schedule to see what's happening every day.

As well as all of the on track action there will be quizzes, grass track racing, motorcycle convoys and much more!

www.ulstergrandprix.net
Road closure Times
UGP Practice: Wednesday 8th August Roads closed 10.00am - open by 9.30pm

UGP Practice & Races: Thursday 9th August Roads closed 10.00am - open by
9.30pm

UGP Races: Saturday 11th August Roads closed 9.30am - open by 8.30pm
Mon Jul 30 2018
ANNUAL BALLOT
The draw for the 2018 Annual Ballot took place the recent Annual
General Meeting:-

First prize, winning 2 MCE UGP VIP Hospitality Tickets:
R Blair, Templepatrick

Second prize, winning a cheque for £250:
D McCourt, Stoneyford

Third prize, winning the Maxwell Freight Services Corgi Replica:
R G Chambers, Banbridge

Fourth prize, winning a cheque for £150:
McNally & Co, Greystones

Fifth prize, winning 2 MCE UGP Bike Week wristbands:
J O'Toole, Ballymun

Sixth prize, winning a cheque for £100:
D Young, Budore.

Well done everyone! All prize winners have been notified.
Thu May 3 2018
2018 Membership and Grand Annual Prize Draw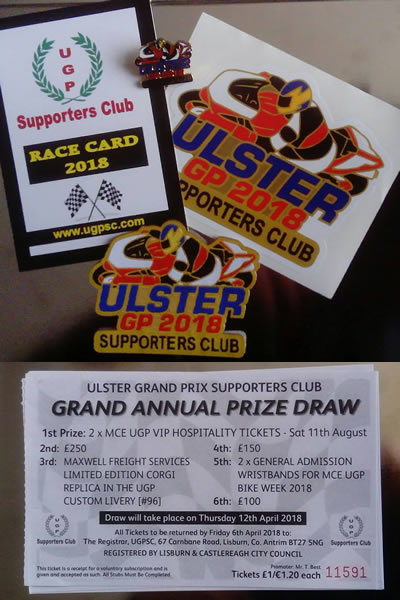 Membership of the Ulster Grand Prix Supporters Club is now due.
By now, most of you will have received your renewal envelope in the post. Membership this year entitles you to the Enamel Lapel Badge, Sew- On Patch, Car Sticker and Race Card. The membership fee for 2018 remains at £15.00stg or €18.00 euro and you now have a number of ways you can pay your membership:-
Return your membership form along with payment in the return envelope in your pack.
Pay in person at the UGPSC Stand at the Northern Ireland Festival of Motorcycling.
Call into the Club Trailer during UGP Bike Week.
OR
*** New for 2018 *** Pay by Direct Debit
The hassle-free way of ensuring your membership is paid each year and as soon as your bank honours the Direct Debit your membership pack will be sent to you. A Direct Debit mandate has been included in the Membership envelope for your convenience.
Also included in your pack is a book of 10 tickets for our 2018 Grand:
Annual Prize Draw. We have six fabulous prizes to give away this year.
To be in with a chance to win please return your ticket stubs as soon as possible as the draw takes place this year at our Annual General Meeting on Thursday, 12 April 2018.
Wed Jan 31 2018